Your account from the EdLeader21 Annual Event is a temporary one. Contact your EdLeader21 district/organization representative to get your access code to update your account.
Go to the Battelle for Kids login page. Login to your account.
On the Welcome page, click "Account" in the upper right, then click "Redeem Access Code."
Enter your access code and click the Add button.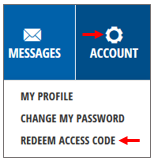 Your account will be updated to reflect the dates of your district/organization's EL21 membership.
Visit other articles in the "EdLeader21 Account Access" section to the left for more detailed information.